Things to see in Seville Top 20 Must See
Introduction
In the last few years, Seville has become one of the most frequently visited cities in Europe and the rest of the World. The combination of good weather, historical monuments (some of which have been declared a World Heritage Site by UNESCO) and a great cultural and leisure programme, have contribuited to Seville being considered the best city to visit in 2018 by Lonely Planet.
So if you are thinking about visiting our city or you are preparing your trip to Seville, we suggest what to see in Seville. When you already know what to see in Seville, you can also read our post about`Things to do in Seville', in which we list the best plans to enjoy your visit to the fullest.
Things to see in Seville
MOST IMPORTANT MONUMENTS
To start our visit to Seville, we should mention its most well-known monuments and museums, which are the most frequently visited monuments in the city. Some of them have been declared a World Heritage Site by Unesco:
1. The Cathedral and the Giralda of Seville
The Cathedral of Seville is the third largest Christian temple in the world and its most important feature is that it was built at a 12th-century mosque. With the passage of time it was acquiring all the styles that marked its history and so, we can also notice different styles in this impressive temple ranging from Gothic to Mudejar style, apart from the Renaissance, Baroque and Neoclassical. The visit should be completed with a foray to the Patio de los Naranjos and the Giralda, which being 96m high, offers a wonderful view to the city.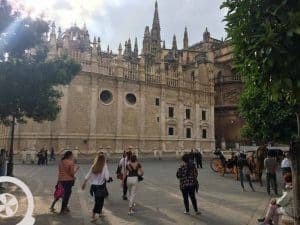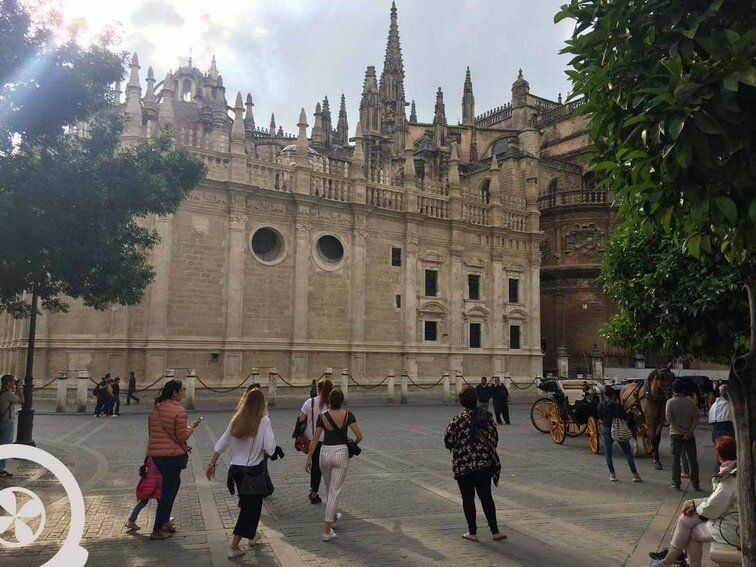 Things to see in Seville
2. Royal Alcazar of Seville
This is the oldest Royal Palace in Europe and it has been modified by all the civilizations that have inhabited Seville since Roman times, and it became a magnificent palace that we are lucky enough to be able to visit today. Its impressive rooms, palaces, pavilions and gardens leave no one unsatisfied.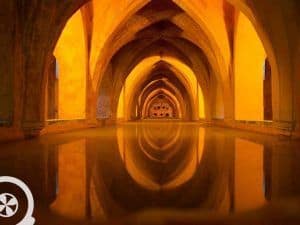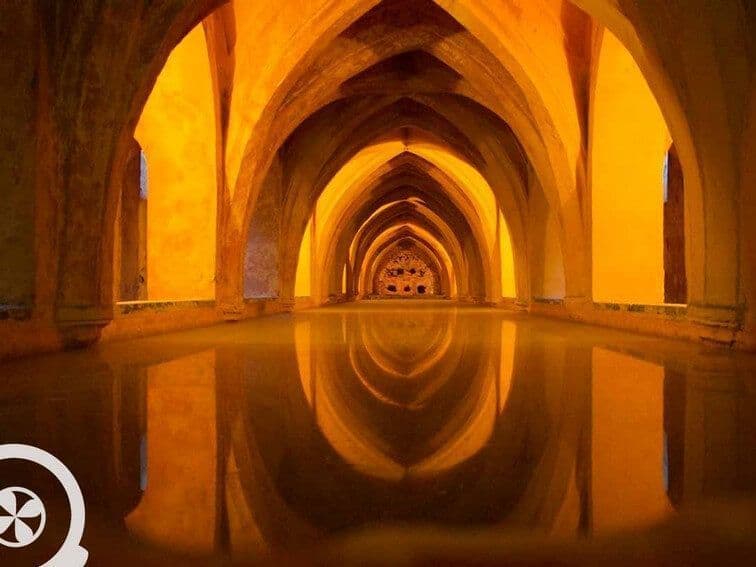 In order to make the mosto f your visit to the Cathedral and the Royal Alcazar, we recommend booking a guided tour. For a price very similar to that of the official tickets you can visit both monuments with an official guide who will explain everything in detail to maximize your visit and, most importantly, you will not have to queue at both monuments.
Here we leave a link for you to see the details and buy tickets:
Cathedral, Giralda and the Royal Alcazar
Things to see in Seville
3. Museum of Fine Arts
The Museum of Fine Arts of Seville is home to the second most important collection of paintings in Spain after the Prado Museum in Madrid. During your visit you will hace the opponrtunity to watch many important works by Murillo, Zurbarán or El Greco. The permanent exhibition of the museum also include an itinerant exhibition that is covered by the ticket price.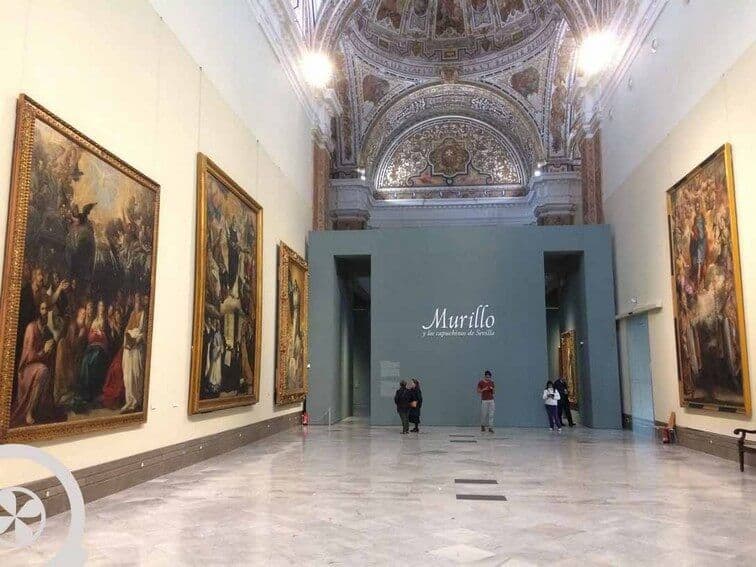 Things to see in Seville
4. Monastery of La Cartuja (Santa María de las Cuevas)
A former monastery and an important building for the history of the city, today the Monastery of La Cartuja is home to the Andalusian Center for Contemporary Art (CAAC). With your visit to the monument you will also be able to enjoy the temporary exhibitions that are held inside. In their gardens and especially in spring, concerts and music festivals usually take place. Here you can check the programme.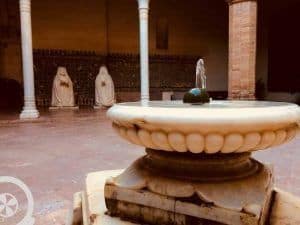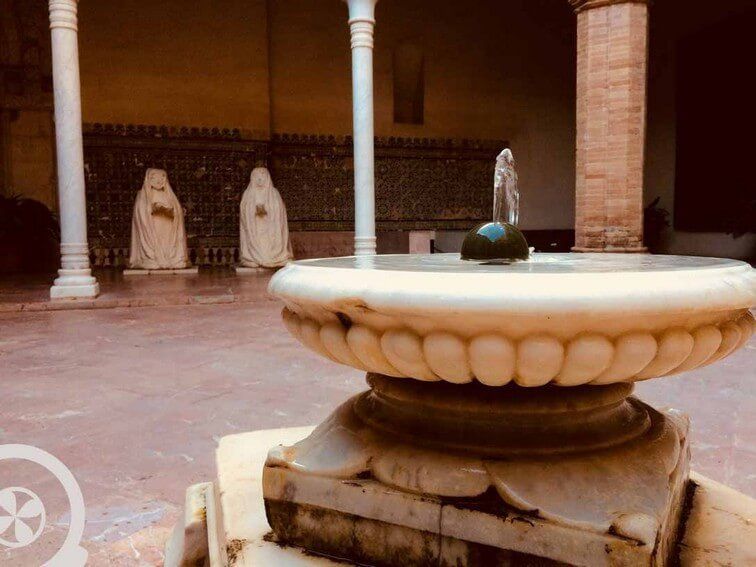 Things to see in Seville
MOST RECOMMENDED CHURCHES
A short walk through Seville will be enough to see the large number of churches that history has left to Seville as a legacy. Here we list only some of those that we regard as the most representative ones in order to understand the culture and devotion that many of the people in Seville profess throughout the year and especially during Easter.
5. Church of Divino Salvador:
It is located in the Plaza del Salvador (Salvador square). It hosts a large number of works of art and this visit is highly recommended.
6. Basilica of El Gran Poder:
It is located in the neighborhood of San Lorenzo and it is the home of Ntro. Señor del Gran Poder, one of the religius images with the largest number of devotees in Seville.
7. Basilica of La Macarena:
One of the most often visited basilicas in Seville where the image of Ntra. Señora Esperanza de la Macarena can be seen, a virgin with thousands of devotees across the world.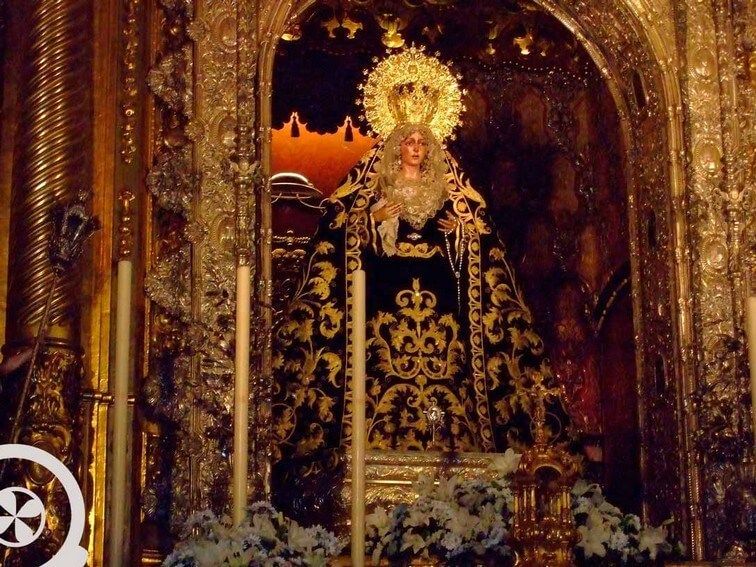 8. Church of Santa Ana:
It is located in the neighborhood of Triana and is known as the Cathedral of Triana.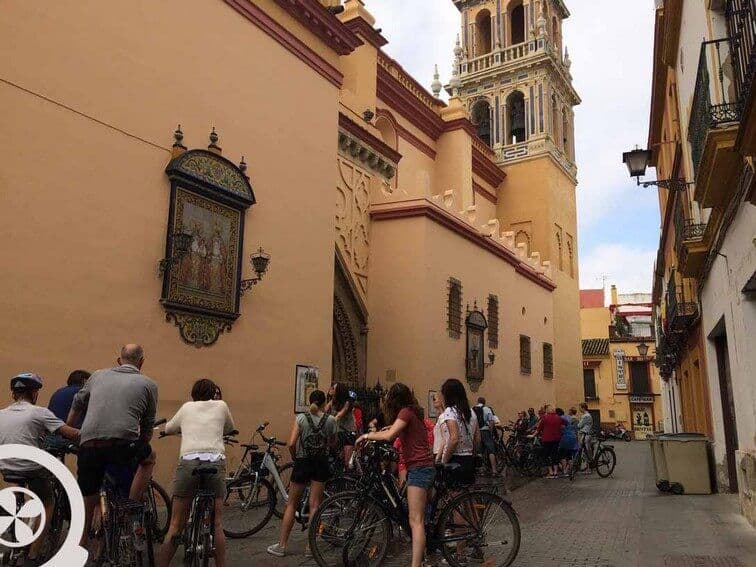 9. Basilica of Los Marineros:
It hosts the image of Ntra. Señora Esperanza de Triana, one of the most revered images in Triana and in Seville.
10. Church of San Luis de los Franceses:
This 18th-century baroque temple is considered to be one of the most beautiful temples in the city and after several years of rebuildings, it has recently been opened again to the public.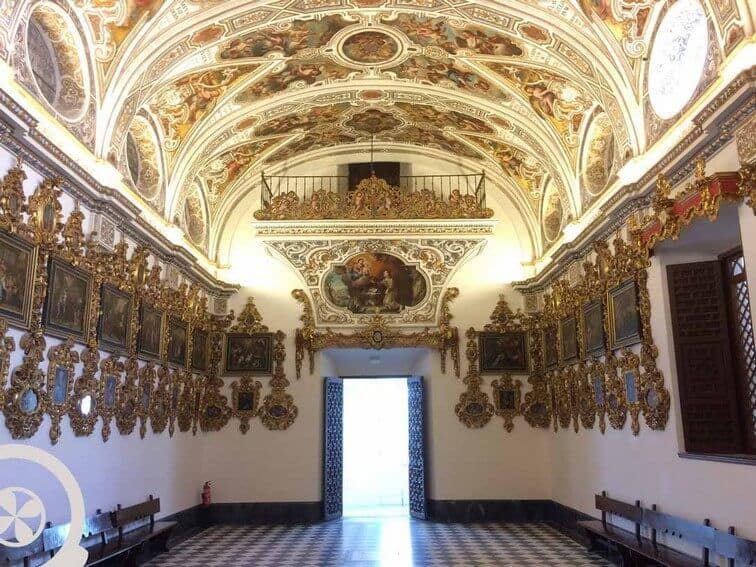 Things to see in Seville
OTHER MONUMENTS AND INTERESTING PLACES
11. Santa Cruz neighborhood
This old Jewish neighborhood made up of narrow streets, squares and fountains is the perfect place to take a walk, take pictures and finish the route by having a beer in one of its bars.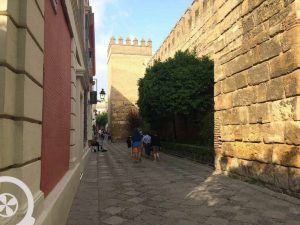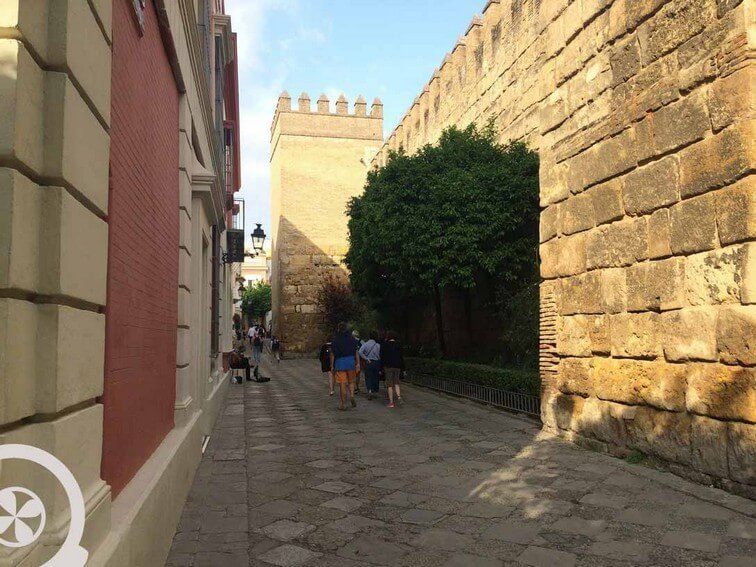 12. Metropol – Parasol (Setas de Sevilla)
It is a recently built modernist setting in the center of Seville in whose interior we can visit an Antiquarium with Roman and Islamic remains. We can also go up to the top of this site and enjoy a wonderful view to the city. Inside this place there is also a market. The area is surrounded by shops and bars.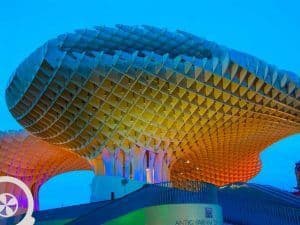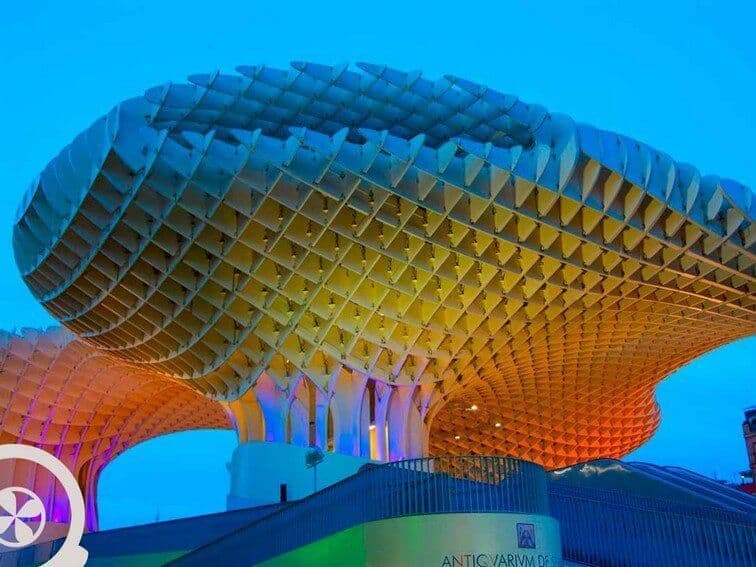 13. Palace of Dueñas
A palace built during the 15th-century which has been opened to the public sinde 2016. Inside, we can examine Baroque, Mudejar and Renaissance styles, as well as numerous works of art or a typical Andalusian `patio'.
14. Navigation Pavilion
During your visit you can learn about the art of sailing and the importance of Seville during the Colonization of the Americas or the first voyage of the World by Fernando de Magallanes.
15. Museum of Arts and Popular Customs
A mudejar pavilion built for the Universal Exhibition of 1929, today it hosts a museum about the popular Andalusian arts with some works dating back to the 15th-century.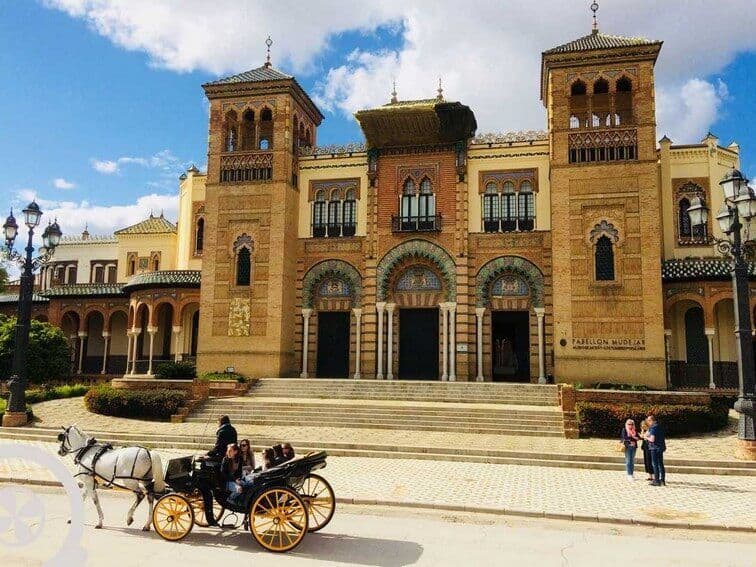 16. Archaeological Museum of Seville
Also built for the Universal Exhibition of 1929, this building was the Museum of Fine Arts and today it hosts archaeological treasures of Seville, such as the famous Treasure of Carambolo (pieces of gold from a Phoenicians 7th-century BC site) and some sculptures from the famous Roman city of Italica.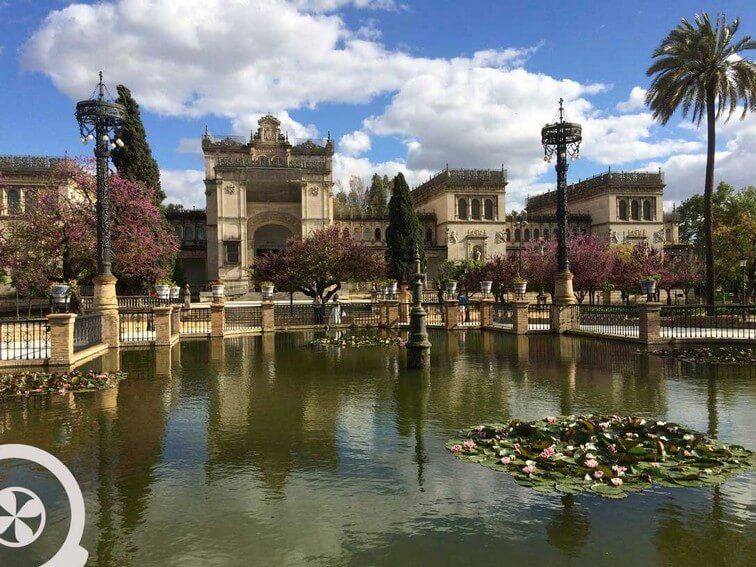 17. House of Pilatos
A mudejar palace of the 15th-century adapted to the Renaissance in the 16th-century. It was the residence of noble families during the 16-17th centuries. Sculptures of historical figures decorate this palace with beautiful gardens and Andalusian `patios'.
18. Castle of San Jorge
Today you can visit the remains of the castle that used to give access to Triana and it was an important historical site during the Spanish Inquisition. The tour ends inside the Mercado de Triana, a colorful market full of life.
19. Plaza de España and Parque de María Luisa
All this space designed for the 1929 Universal Exhibition is worth spending a long walk around its gardens and buildings. Like most of the buildings from the Exhibition of 1929, the Plaza de España was designed by Aníbal González to intended as the main building of the Universal Exhibition. Due to its extension, a bike ride through the Parque de Mª Luisa is a good idea to explore every corners.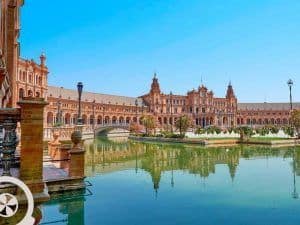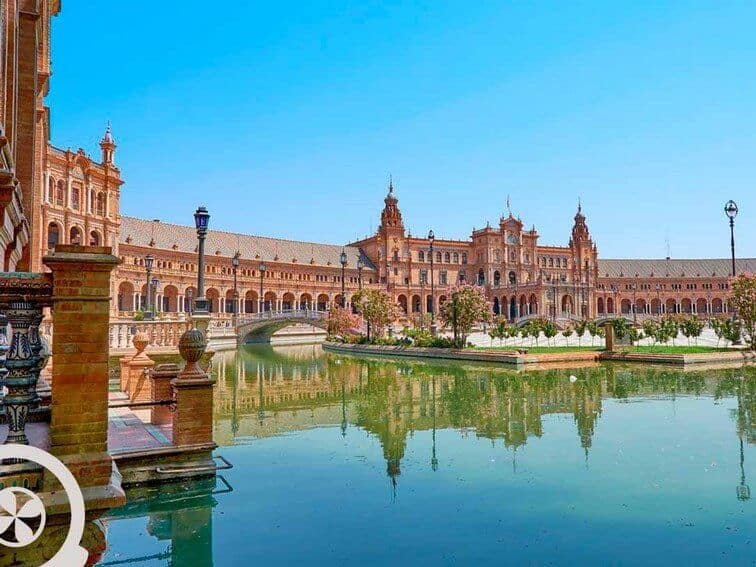 Things to see in Seville
20. SURROUNDINGS OF SEVILLA
Once you have got familiared with the city of Seville, we recommend exploring its surroundings on a day trip by private transportation from your accommodation, a local guide, and with all tickets and travel insurance included:
– Ronda and the White Villages
– Carmona
– Sierra de Aracena, Gruta de las Maravillas y Minas de Río Tinto
– El Caminito del Rey – Malaga
You can access all our Guided Tours in Seville and our Day Trips from Seville visiting our website.