20 Best things to visit in the Triana Seville neighbourhood
Introducction
Welcome to the heart of Seville, where every cobblestone has a story to tell, where the rhythm of Flamenco echoes through age-old alleyways, and where the vibrancy of Spanish life flourishes – welcome to Triana. Known for its rich culture, spirited history, and iconic Andalusian charm, Triana captures the essence of Seville in its truest form. Join us as we delve into this neighborhood, sharing our top 20 things to see and experience in this captivating part of town.
1. Triana Bridge or Isabel II Bridge
Triana Bridge (Puente de Isabel II): Begin your journey with the breathtaking sight of Triana Bridge, an impressive ironwork structure from the 19th century. Known as the gateway to Triana, it beautifully spans the Guadalquivir River and provides mesmerizing views of the cityscape, especially at sunset.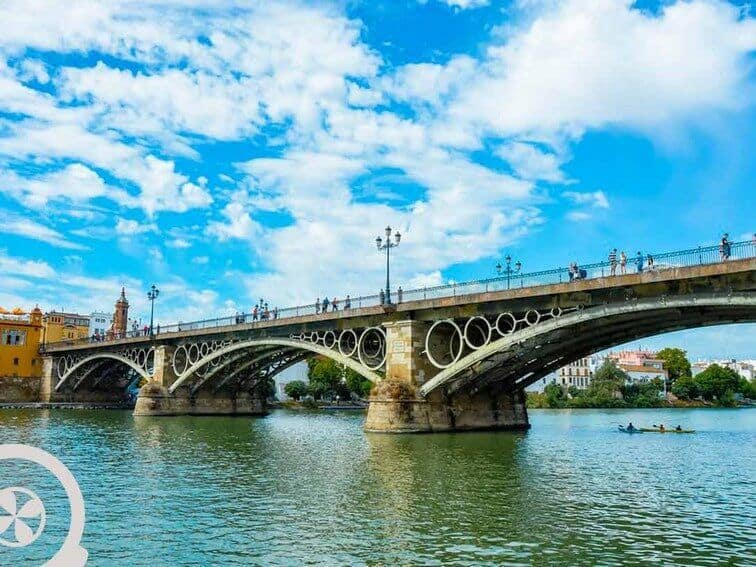 2. Betis Street
Calle Betis: This picturesque riverfront promenade perfectly encapsulates the spirit of Triana. Whether it's gazing at the grand Guadalquivir River, marveling at the colorful building facades, or relaxing in the many vibrant tapas bars and restaurants, Calle Betis is a feast for the senses.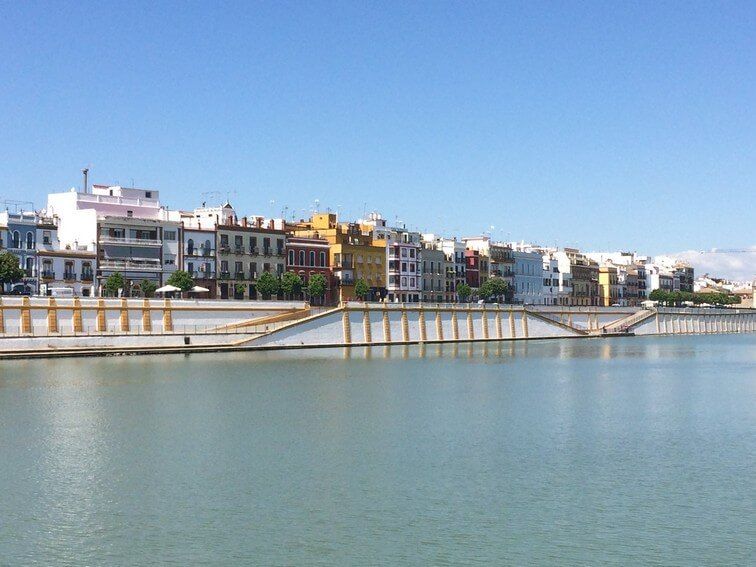 3. Capilla del Carmen (Chapel of Carmen)
Capilla del Carmen: This little oasis of tranquility sits at the Triana end of the bridge. Adorned with exquisite azulejo tiles, this chapel dedicated to Carmen, the patron saint of sailors, exudes an aura of serenity amidst the city's hustle.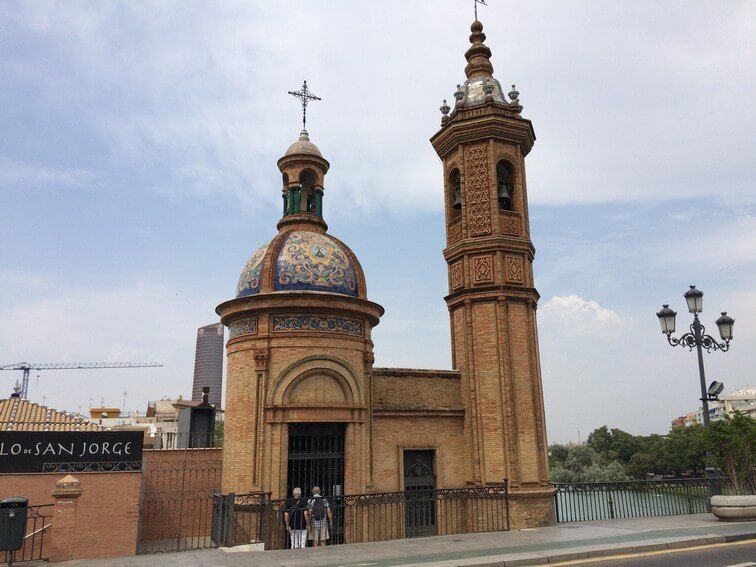 4. Triana Market
Triana Market (Mercado de Triana): Located on the remnants of the Castle of Saint George, Triana Market is a bustling hub of activity. Here, you can immerse yourself in the local cuisine, relishing fresh produce, mouth-watering tapas, and the catch of the day.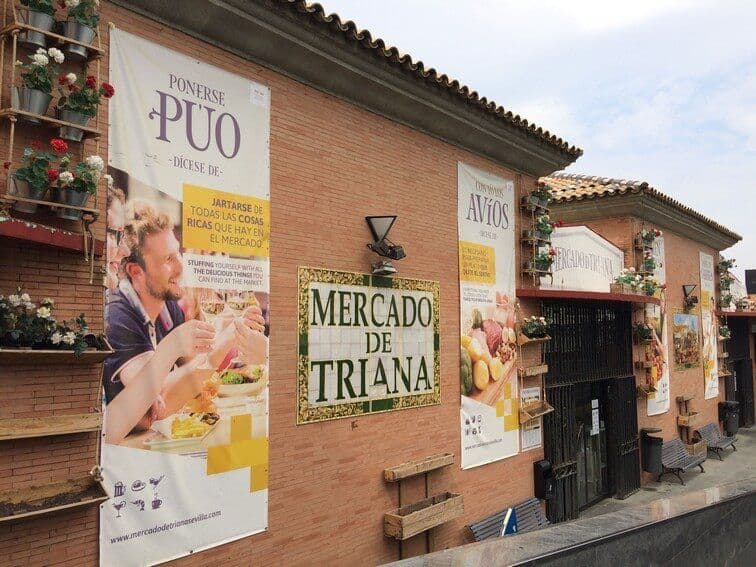 5. Plaza del Altozano (Altozano Square)
Plaza del Altozano: The central hub of Triana, this plaza hosts the famous statue of flamenco dancer Juan Belmonte. A place of social gatherings and festivities, it's a vibrant spot to soak in local culture.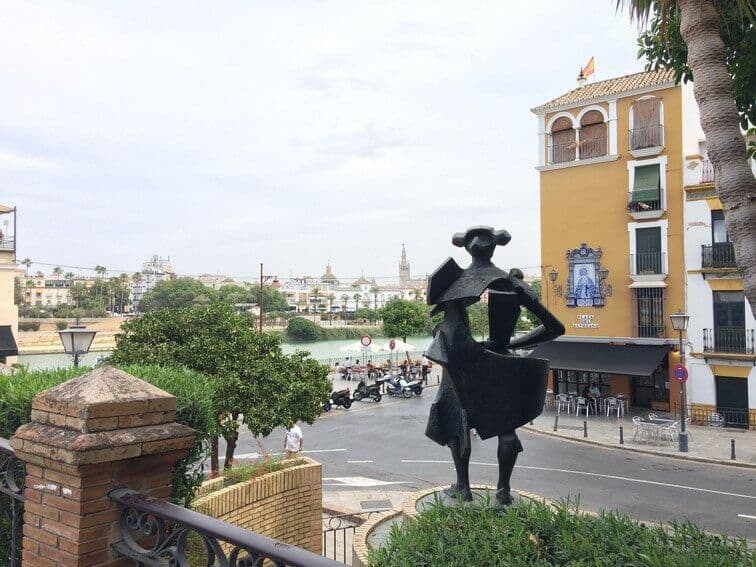 6. Castillo de San Jorge (Saint George's Castle)
Castillo de San Jorge: Beneath the Triana Market lie the haunting ruins of the Castillo de San Jorge, once the headquarters of the Spanish Inquisition. Now a museum, it's a fascinating, if somber, journey into a dark chapter of Spanish history.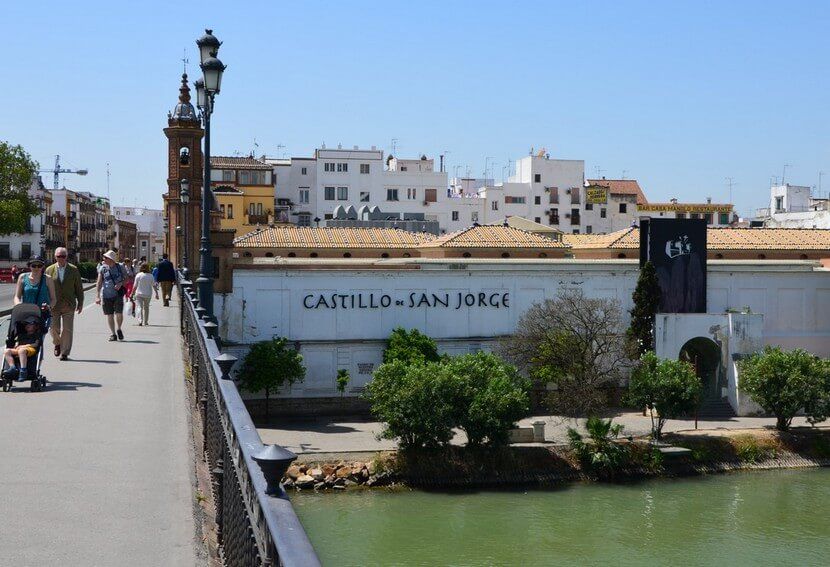 7. Callejón de la Inquisición (Alley of the Inquisition)
Callejón de la Inquisición: This narrow, winding alleyway takes you back to the time of the Inquisition. It offers a haunting yet captivating walk filled with historical remnants and mystery.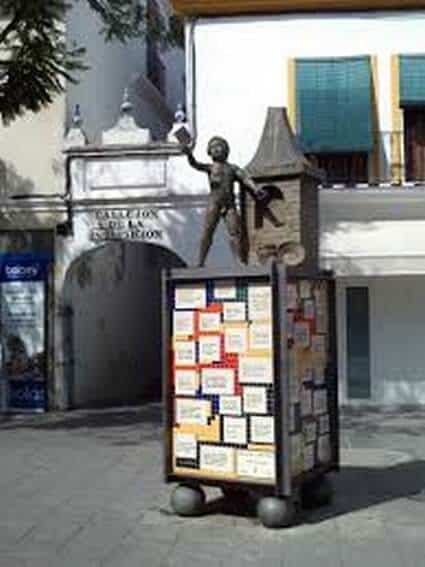 8. Mercado del Paseo del Arte (Handicraft market)
Paseo del Arte Market: Every weekend, this market transforms into an art lover's paradise, showcasing vibrant paintings, unique crafts, and intricate ceramics from local artisans.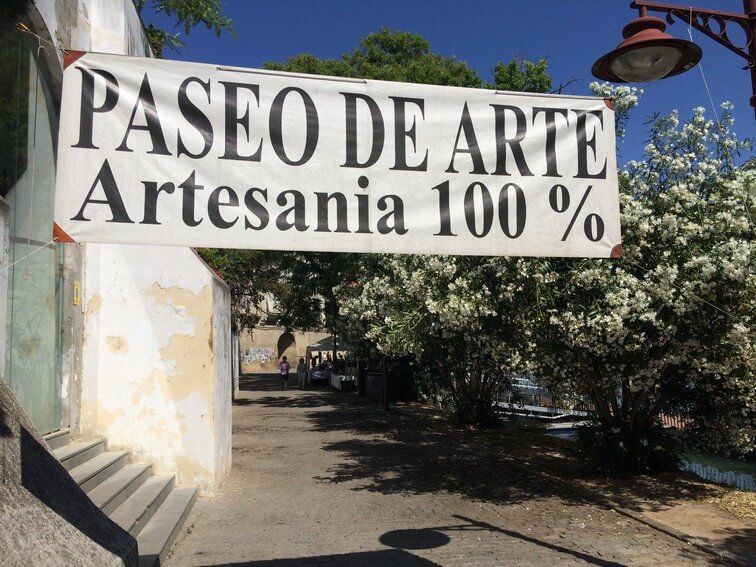 9. Corral de las flores
Corral de las Flores: Named after the fragrant flowers that adorn its courtyard, this traditional Andalusian house exemplifies Triana's residential architecture. Its soothing ambiance offers a respite from the city's energy.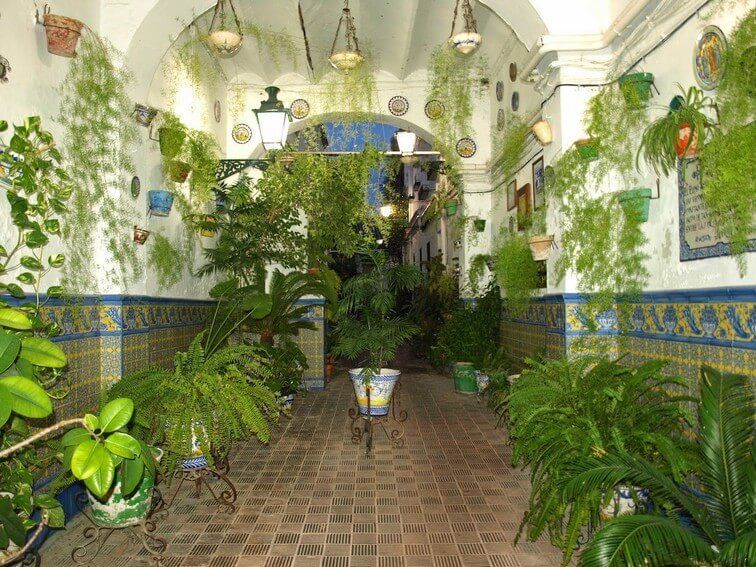 10. Párroquia Ntra Señora de la O
Parish of Nuestra Señora de la O: This imposing Baroque church is a spiritual anchor for locals. Marvel at the stunning golden altarpiece and beautifully preserved artwork within.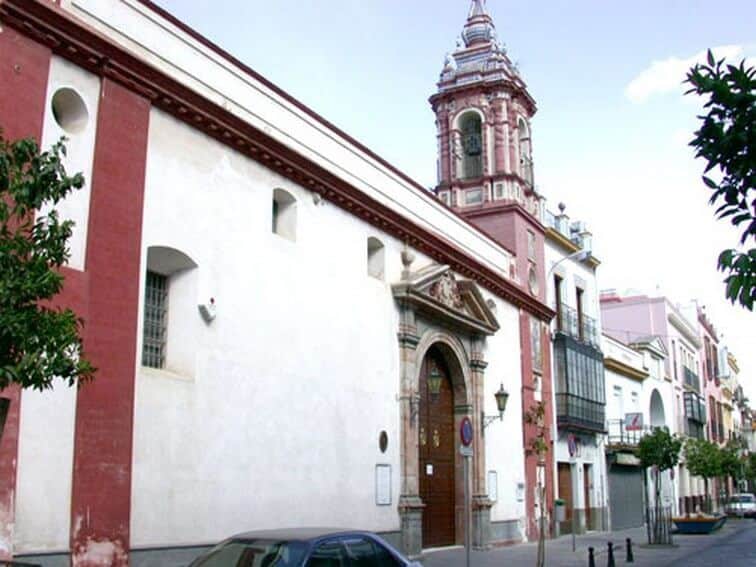 11. Basílica del Cachorro
Basilica del Cachorro: Revered for housing one of Seville's most adored Holy Week figures – the Cristo del Cachorro, this basilica holds a special place in Trianeros' hearts.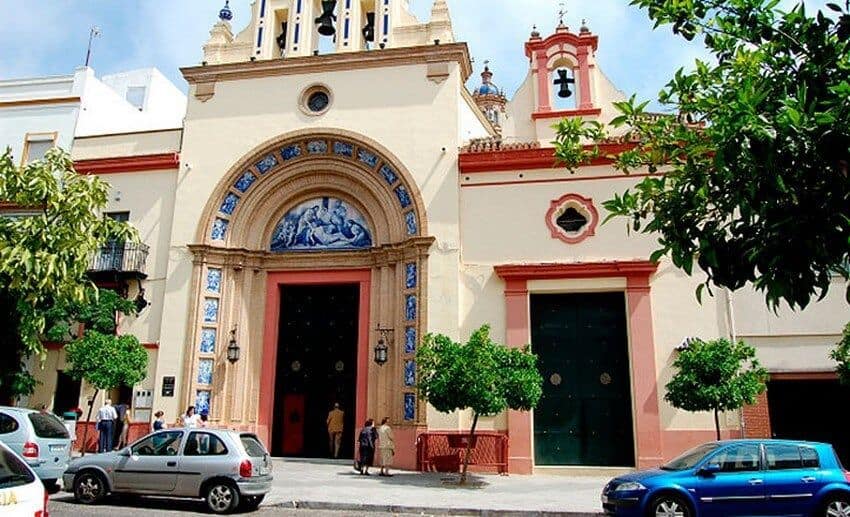 12. Centro Cerámica de Triana (Triana Ceramic Centre)
Centro Cerámica de Triana: Triana's ceramic-making tradition is renowned, and this museum beautifully pays homage to it. Explore the process, styles, and history of Triana's ceramic industry through its informative exhibits.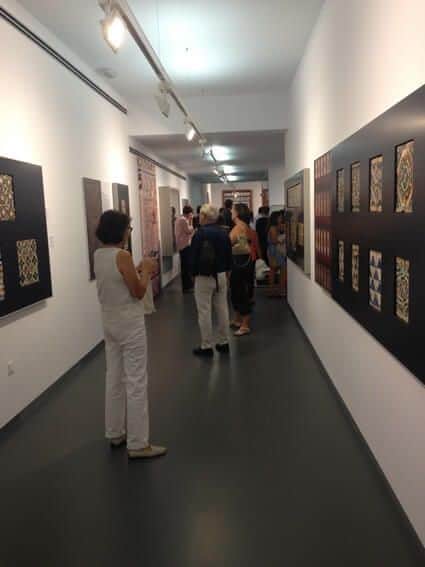 13. Capilla de la Estrella (Chapel of the Estrella)
Capilla de la Estrella: A charming and lesser-known chapel, Capilla de la Estrella is home to the Hermandad de la Estrella brotherhood. Its intimate and serene interior provides a peaceful retreat.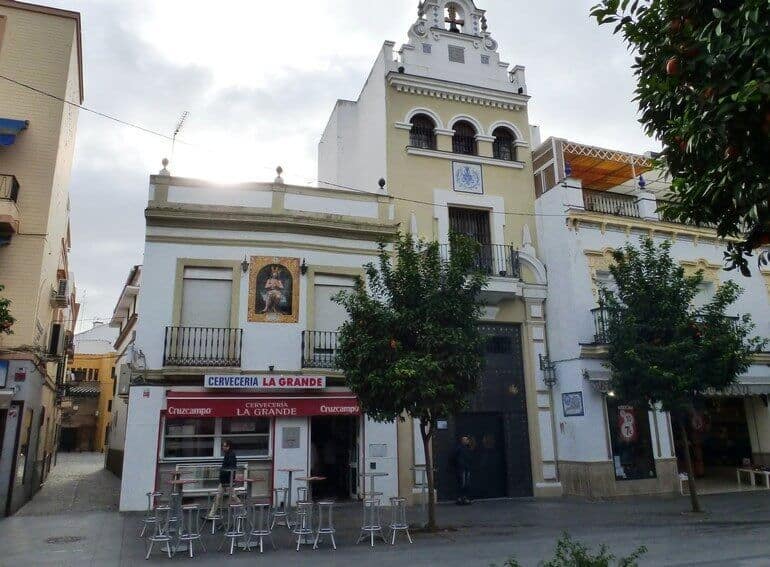 14. Capilla de los Marineros (Chapel of the Sailors)
Capilla de los Marineros: This revered chapel houses the beloved Virgen de la Esperanza, also known as the Virgin of Hope, making it a significant spiritual landmark and pilgrimage site during Semana Santa (Holy Week).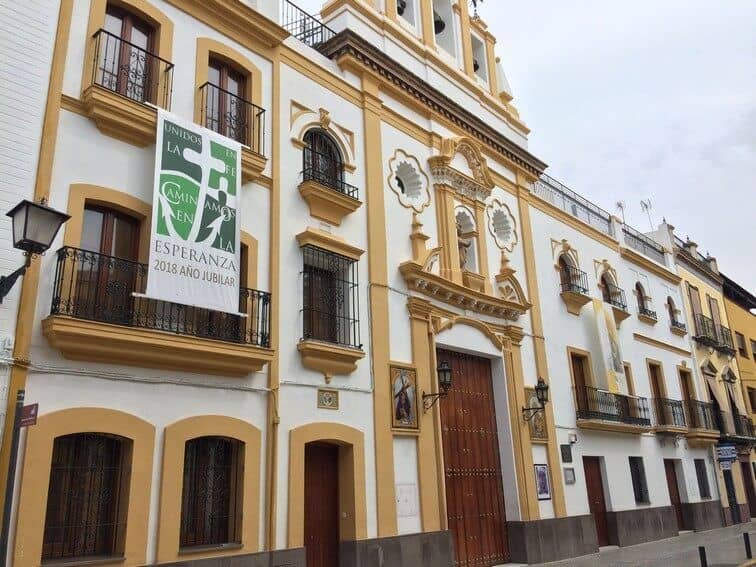 15. Parroquia de Santa Ana (Saint Anne's Church)
Parroquia de Santa Ana: Dating back to 1266, this is considered Seville's oldest church. Its beautiful blend of Gothic and Mudejar architectural styles, alongside stunning frescoes and stained-glass windows, is truly captivating.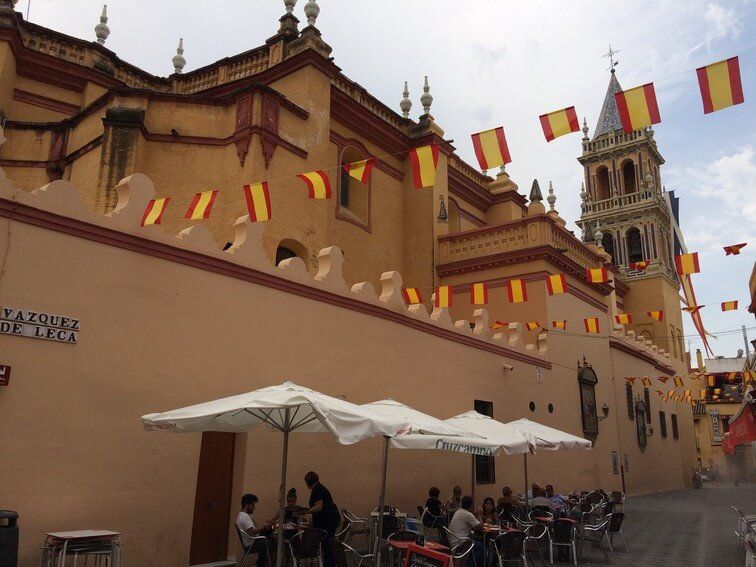 16. Corral de Herrera
Corral de Herrera: This traditional "corral" or communal house offers a peek into Seville's architectural past. Its classic features and central patio adorned with a well and washing lines reflect the lifestyle of bygone times.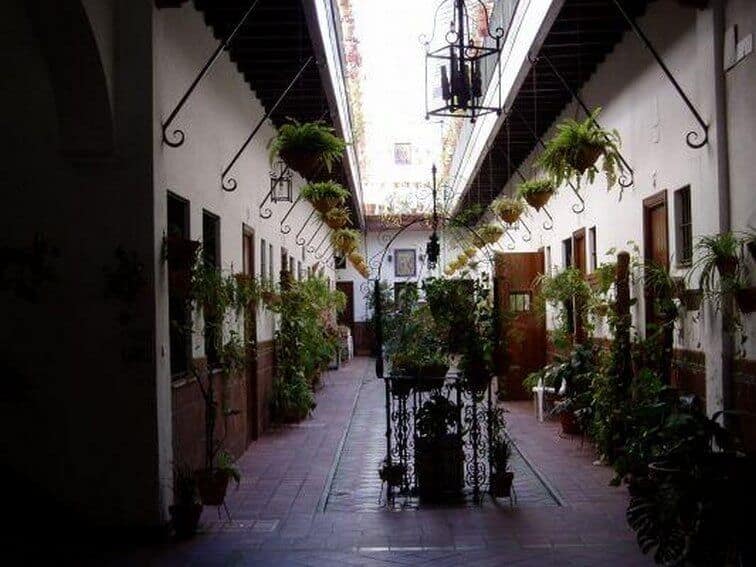 17. Esfera Armilar (Armilar Sphere)
It is in the Plaza de Cuba. The "Zero mile" of the Earth which commemorates the 500th anniversary of the first voyage around the world (1519-1522) started in Seville by Fernando de Magallanes and finished by Juan Sebastián Elcano also in Seville.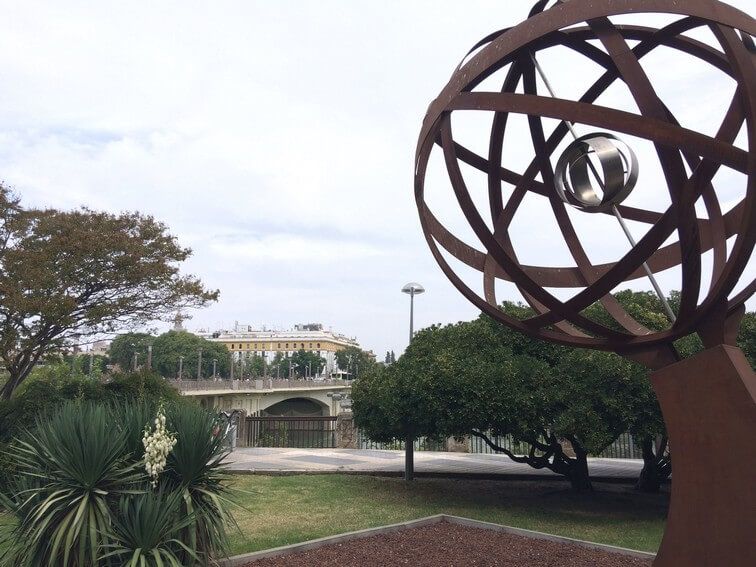 18. Museum of Carriages
Museo de Carruajes: Here, you'll discover a fascinating collection of historic horse-drawn carriages. It's an intriguing journey into the evolution of transportation and craftsmanship of the carriage era.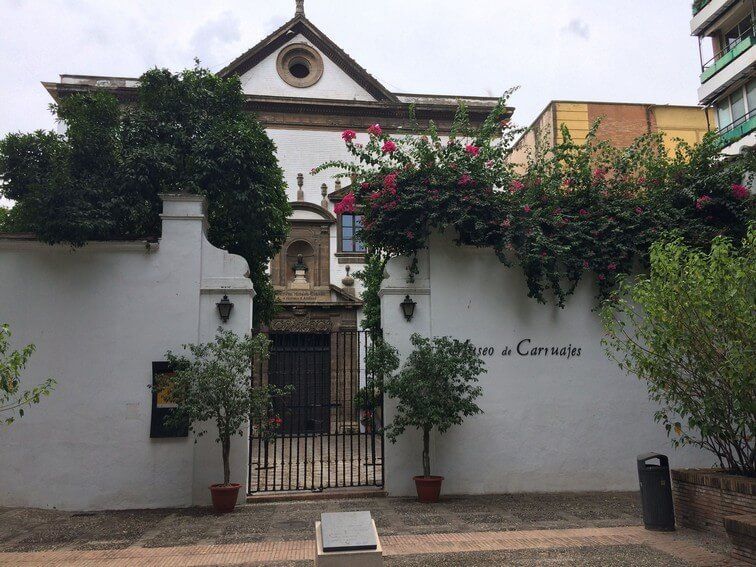 19. Velá de Santiago and Santa Ana
Velá de Santiago y Santa Ana: Join the locals in late July as they celebrate this traditional festivity in honor of St. James and Saint Anne. It's a colorful explosion of flamenco performances, gastronomy, and sevillanas dancing.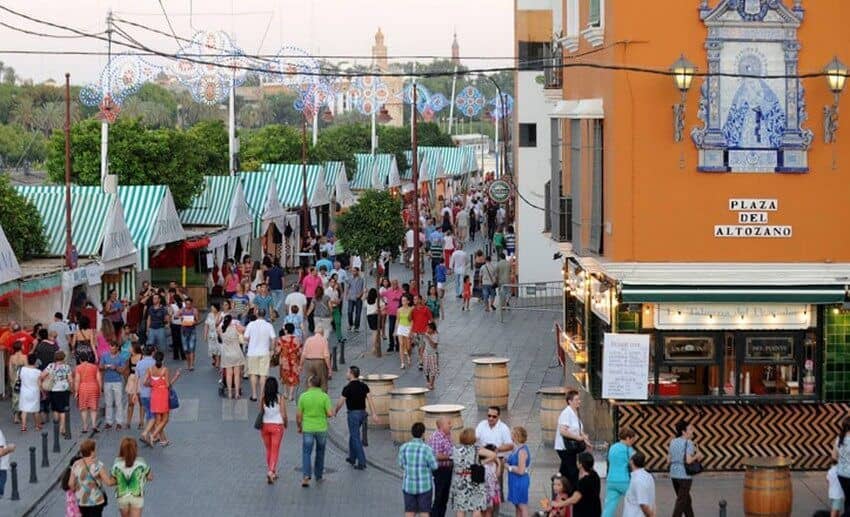 20. San Jacinto Street
Calle San Jacinto: This bustling street is a shopper's delight. It offers a variety of local boutiques, bakeries, and tapas bars, all pulsating with the lively rhythm of Triana.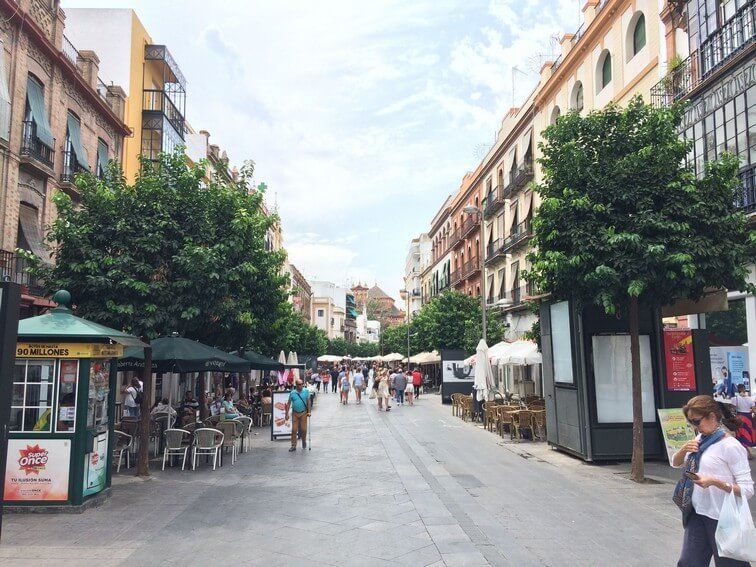 Unveiling Triana is an expedition of soul-stirring experiences that embrace history, culture, religion, and the jubilance of Andalusian lifestyle. Whether you're taking a walk down the vivacious Calle Betis, relishing culinary delights at the Triana Market, or discovering the spiritual heritage encapsulated in the many chapels, Triana's allure lies in its vibrant contrasts and authentic charm. Each corner tells a story, each stone sings a song – a melody that will echo in your heart long after you leave. As we always say, to know Seville, you must know Triana.