Itineray to visit Seville in 2 days
Introduction
Next, we will recommend an itinerary to visit Seville in 2 days. We have to say that Seville, the capital of Andalusia, is the city with the largest historical center in Spain. The city preserves a great historical, social and cultural legacy that deserves a long visit to get familiar with it.
However, on many occasions, our obligations and possibilities do not allow us to enjoy a holidays as long as we would like.
We are going to propose an itinerary of Seville in 2 days. We will try to get familiar with the most significant places of the city and enjoy our visit as much as possible.
1st DAY IN SEVILLE
On our first day we could start knowing the most emblematic monuments of the city: The Cathedral, The Royal Alcazar and The Archive of Indias. These three monuments have been declared World Heritage Sites by UNESCO.
Then we can enjoy "tapas" in the neighborhood of Santa Cruz and then get lost in this beautiful Jewish neighborhood.
Before ending the day, we can enjoy a panoramic view of the city. For this, we can go up to the top of the Metrosol-Parasol, better known as "Las Setas de Sevilla".
At night, we can enjoy the nightlife in the area of ​​the Alameda de Hércules. Along this boulevard we will find many bars and terraces where we can have dinner, a drink or finish dancing in one of its nightclubs.
Catedral de Sevilla (Cathedral of Seville)
It is the third largest Christian temple in the world. It hides treasures of the different styles that have marked the history since the beginning of its construction in the XII century. To enjoy the cathedral, the visit can take us approximately 1h30 'and can be completed with a good view from the top of the Giralda.
Seville in 2 days
Real Alcázar (Roya Alcazar of Seville)
It is the oldest Royal Palace in Europe. Visiting this palace, its pavilions and its gardens is almost required if we want to understand the greatness of the city. This visit will take approximately 2 hours.
Recommendation
In both monuments long lines are formed everyday so we have to be aware that we will take a considerable queue before get into each of them.
If we do not have too much time to visit the city, we recommend a guided tour of these two monuments. The price is similar to buying the tickets individually. The guided tour includes tickets, an official guide and what is more important, you will not have to queue for the long lines.
Here you can book a guided tour:
Book a Guided Tour to the Cathedral of Seville, the Giralda, the Royal Alcazar and the Santa Cruz Neighbourhood with an official guide ang jump the queue
Seville in 2 days
Archivo de Indias (Archive of Indias)
If we still have time for a visit before lunch, we must visit the Archivo de Indias. In it, some of the nearly 50,000 maps and files of the Indies (Spanish territories beyond the peninsula after the discovery of America), are kept and displayed.
This visit can take us around 45 minutes.
Seville in 2 days
Barrio Santa Cruz (Santa Cruz Neighbourhood)
Then we can enjoy "tapas" in the neighbourhood of Santa Cruz. Then get lost in this beautiful Jewish neighbourhood full of small square, fountains and alleys. It is a perfect walk to take great pictures.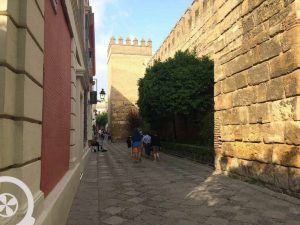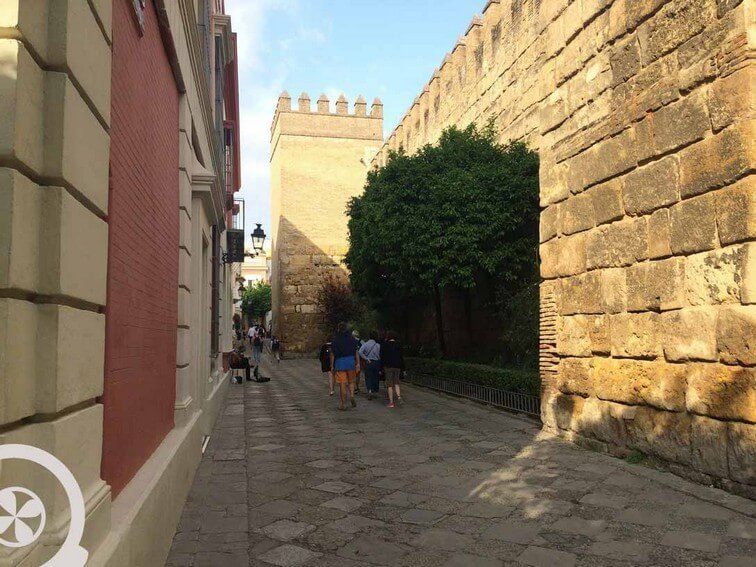 Seville in 2 days
Metrosol – Parasol
This modernist monument of recent construction, known as the "Setas de Sevilla", is a great option to enjoy a good panoramic view of the city.
It is not expensive and also it includes the visit to the Antiquarium with Roman and Islamic remains discovered during its construction. This visit can take us about 1 hour.
Seville in 2 days
Alameda de Hércules
It was the first public garden in Europe. Today has been converted into a modern boulevard. It is an area full of bars and a good atmosphere where we can enjoy a good time in one of its terraces and its innumerable bars.
A representation of the Columns of Hercules, present in the Andalusian flag, welcome us to this area of ​​Seville.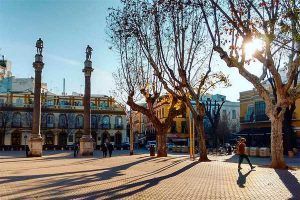 2nd DAY IN SEVILLE
We can start our second day in Seville with a morning walk to visit the Plaza de España and the Parque de Mª Luisa. Within this beautiful urban park, you can also find the Museum of Popular Arts and Customs and the Archaeological Museum of Seville.
After this first visit, we recommend a walk on the banks of the Guadalquivir until you reach the Torre del Oro.
Once in the Torre del Oro, if we look at the other side of the Guadalquivir, we find the Triana neighborhood, our next destination.
In Triana we can make a stop to eat in one of its many bars. We recommend a walk to get to know this unique neighborhood before crossing again its famous Triana Bridge to return to Seville.
To end our day, we propose to attend some of its Flamenco shows. They are offered daily in many of "tablaos" distributed throughout the city.
Seville in 2 days
Plaza de España and Parque Mª Luisa (Spain Square and Mª Luisa Park)
This space was designed for the Universal Exhibition of Seville in 1929. The Plaza de España was designed by Aníbal González to become the main building of the Exhibition.
The Parque de Mª Luisa, where the Plaza de España is located, is an exuberant garden that is very careful to detail, full of corners, fountains and galleries that deserve to be delved into.
We highlight two buildings that are inside the park and that today host the Museum of Arts and Popular Customs of Seville and the Archaeological Museum. Approximate duration 2h30 '
Seville in 2 days
Torre del Oro (Gold Tower)
If we are in the Parque de Mª Luisa and we go in direction to the river, we can enjoy a pleasant walk on the banks of the Guadalquivir.
Following this walk, we will find the Torre del Oro. This almohad tower today it hosts the Naval Museum of Seville.
Seville in 2 days
Triana Neighbourhood
Once we are in the Torre del Oro, and we look at the other side of the river we will see a beautiful street with colorful houses. This is the Betis street tha reveals the doors of the Triana neighborhood.
Triana is considered in Seville as a separate city. A perfect place to eat in one of its many bars. We can visit the Museum of Ceramics or the Castle of San Jorge, both close to the Triana bridge.
We can not leave this neighborhood without entering the Mercado de Triana (Triana Market), where we can buy good fresh products or enjoy a "tapa" in some of their posts transformed into bars.
Seville in 2 days
Flamenco Show
Seville is one of the centers of Flamenco art. There are many flamenco clubs and "tablaos" scattered around the city where we can enjoy a good flamenco evening show.
Here we leave you a guide with some of them. It would be difficult to name them all:
Where to see Flamenco in Seville (This link open a new window)
Well, that's all. We have tried to condense to the maximum a visit to Seville in two days. If you spare time or want to see other alternatives, here are two other posts that may be of interest:
You can access all our Guided Tours in Seville and our Day Trips from Seville visiting our website.